Building Up the Kingdom Music Collection
Building Up the Kingdom Song Book/Music Collection contains the sheet music for all of the selections on the CD.  It contains the song lyrics, lead vocals, choir parts and piano accompaniment with chord symbols.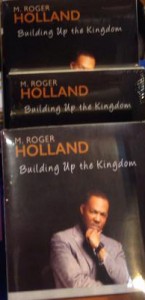 The material on Building Up the Kingdom is very diverse, and touches on the myriad spectrum of Black Church music.  If you are looking for a good choir song, there's Getting Ready or the title track, Building Up the Kingdom. Worthy God, the first single, is a moving worship song.  Two Eucharistic themed songs that are good for communion are The Christ in Me and Daily Bread.  An upbeat Marion hymn arranged for congregation and choir is the gospel thumping Hail, Queen of Heaven (Pray For Me).  If you want to pray the scriptures using the first hymnbook, the Psalms, then there are three different musically-styled psalm settings.  Give the Lord Glory and Honor (Psalm 96) is a more traditional gospel swing, while Remember Your Mercies (Psalm 25) has more of a classic R&B ballad feel.  For those who like more of a funk groove, you are going to be able to get your groove on and be blessed with Blessed (Psalm 119), featuring Melonie Daniels-Walker.  When thinking about the Christmas season, you can worship Christ and get your praise on with the choir gospel song Worship the New Born King.  An alternative to the classic Mary Did You Know is this different take on the story of a virgin girl. Mary's Song looks at the struggle a 14-year old girl in ancient Israel would wrestle with, having been delivered such remarkable and wondrous news.
For those that like classical music, the setting of the classic Prayer of St. Francis melds classical tonality with the sound of gospel. The history of Black music is visited anew with this new arrangement of the Negro Spiritual, Anchored in de Lord.  The arrangement uses the actual sound of an anchor!